The Pro-Idiot
Promotional Poster:
One-sheet 70 x 100cm (27 inch x 41 inch) movie poster
Artists Description and general comments.
Client : MEDiAKiN / Global Alliance Productions / Foresight Films / Ozpixs Entertainment
Brief : Fast turn around on early Edit of Film to be screened at Event Cinemas, Robina. Posters To be displayed as Digital media, then as promotional art for the 2012 Gold Coast film festival.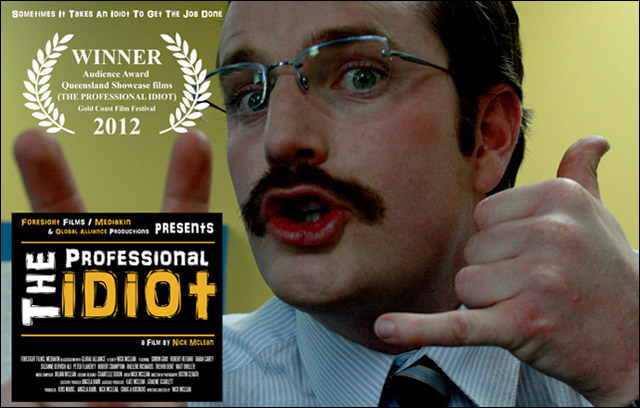 Medium :
Digital : Photographic in Adobe Photoshop 2010 AD
Design Notes : IMDB link .
One-sheet
refers to the standard sized 70 x 100cm (27 inch x 41 inch) movie poster, what is misleading is the one-sheet size isn't necessarily consistent or standard, and can vary by several centimeters. This is especially true of some borderless full-bleed posters, which may be 66.04 x 101.6 cm (26 x 40 inch) or smaller. The sizing can also change between film studios, with each film company in-house ad production group following it's own sizing and printing standards.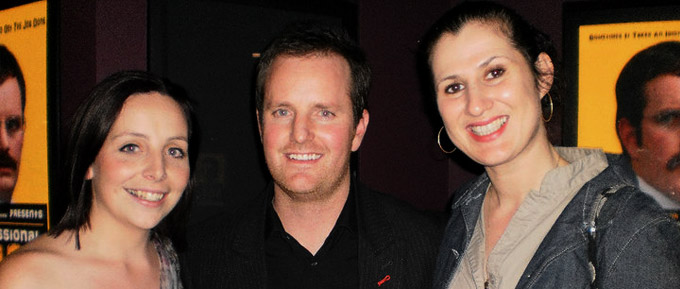 Producer Angela Barr, Professional Idiot Star Simon Gray and Producer (and human equivalent of gaffa tape) Kris Maric.
@ the Sneak Peak Screening of the Professional Idiot.
Recent updates may not appear in search query.