El Sueño de la Razon Produce Monstruos.
It's Film Director and Troma Entertainment''s founder Lloyd Kaufman sprucking one of the 2013-14 Tourin' Trasharama T-shirts featuring Sindee the undead cheerleader (designed by ArkhªmHªus) @ Monsterfest alongside Trashmeister Dick Dale. Following two extremely successful west coast appearances at Stan Lee's Comikaze and the American Film Market, Lloyd Kaufman flew into Melbourne, Australia for his first Monsterfest film festival. On November 23-24, Kaufman hosted two exclusive Monsterfest events: an all day 'Make Your Own Damn Movie' Masterclass and a very Brady... I mean Troma double-bill - Tromeo & Juliet and the Toxic Avenger.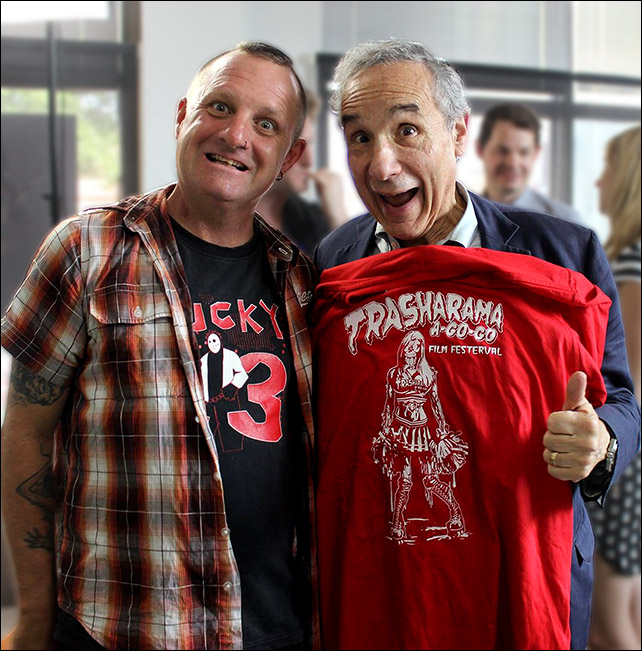 Troma Entertainment is a Behemoth within the B-movie world, creating and releasing figuratively tons of movies, including its most famous piece of celluloid, The Toxic Avenger. Troma has recently released 150 of its movies for free on YouTube, for example the classic Class of Nuke 'em high and Sgt. Kabukiman NYPD are there, they even uploaded some older films which they just hold distribution rights for like Abbot and Costello: Jack and the Beanstalk, and Bela Lugosi in The Corpse Vanishes or The Invisible Ghost. You can watch more modern fare like Zombie Werewolves Attack! and Blood, Boobs & Beast (a documentary about Don Dohler, another B-movie creator). Mr Kaufman has shown himself to be a filmmaker who truly understands how the internet can help him, rather than be something to be feared, so it's great to see him fully embrace a platform like YouTube to distribute his flicks, and to not freak out about the fact that people can watch stuff for free.
Trasharama 2015 Poster featuring Sindee the undead cheerleader :
ZombieTown
\

Lycanthropic Cameraman

\

Zombie CheerSquad

\

SoundMan from the Black Lagoon

|

updated 05/01/15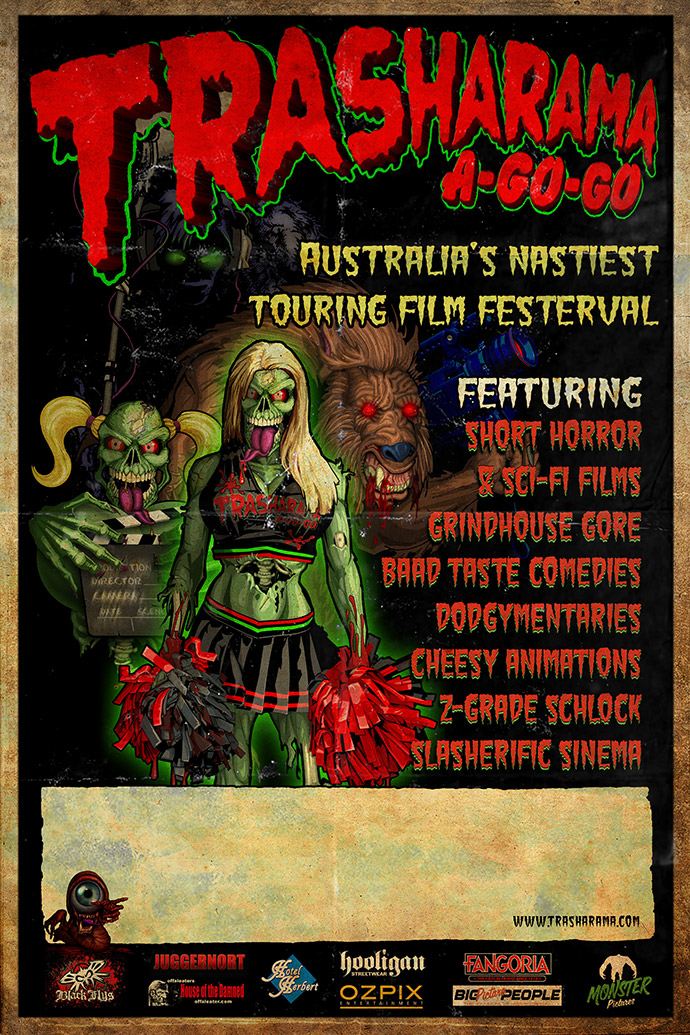 Proudly chronicling the careers of Z-grade Cinema's Werewolves, Zombies, Monsters,
Satanic Emmisaries, Ghosts, Fiends and sundry others.
Artists Description and general comments.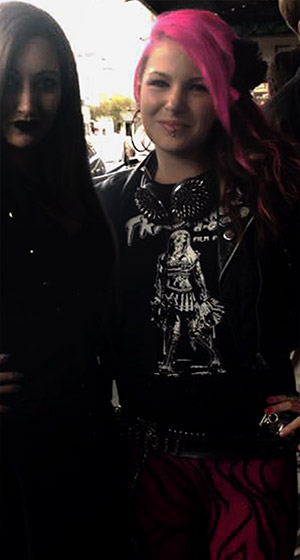 Client : Trasharama A-go-go Annual Film Festival.
Brief : Update, enhance and add characters to existing promotional artwork. An understanding of horror movies was a must.
Medium : Pen Sketchs : 1. ( Digital composition) 20cm by 28cm 1200 dpi
Blonde Zombie (BlondBie??) with clapperboard, the traditional werewolf with Red Digital camera and Mike, the Soundman from the Black Lagoon were all hand drawn, scanned, cleaned up, then additional linework and colour added in Adobe Photoshop 2006 a.d
Digital illustration : 2. Sindee the Zombie Cheerleader (with pompoms) created in Adobe Photoshop 2006 a.d. Character displayed in promotional flyers, festival websites, badges and T-shirts (pictured right). The Single Colour T-shirt design has been resurrected for the 2013-14 Trash Festivals.
Design notes : 1. Trasharama's BlondBie 'Zombie Girl' character was not my creation (pre-existing promotional feature), Substantial additions and alterations (fleshing out the character, so to speak) have been applied giving 'her' more depth (as deep as a toxic-green brain eater can be). Plus the enormous breasts that the original character exhibited prevented posters from being displayed at some establishments ( ergo the clapper-board being firmly clenched rather than rotting zombie titties ) Note: BlondBie 'Zombie Girl has now evolved into 2nd assistant Camera Ghoul 2. When I was first introduced to the character I just assumed she was a cheerleader (prob. the blonde pigtails), hence the outfit in the second design. I like her FuckMe boots (repetitive to draw, worth it in the end). To allow for text to image constraints a half length version was designed as well (see linked page here).
Soundtrack (music to draw to) : Riz Ortolani - Cannibal Holocaust Film Score
| | | |
| --- | --- | --- |
| 2016 17th year | 2015 16th year | 2015 16th year |
| 2015 16th year | 2014 15th year | 2014 15th year |
| 2013 - Monsterfest Crossover | 2012 | 2011 14th year |
| 2011 14th year | 2010- Double Feature | 2009 13th year |
| 2009 13th year | 2008 12th year | 2007 11th year |
| 2007 11th year | 2006 10th year | 2006 10th year |
| 2006 10th year | 2005 9th year | 2004 8th year |
| 2003 7th year | 2002 6th year | 2001 5th year |
| 2000 4th year | 1999 3rd year | 1998 2nd year |
| | 1997 1rst year | |
All names, characters, images and logos within the boundaries of this site are protected by copyright, and other intellectual property laws. All rights in relation to the products and creations identified within this website are owned by Anthony Marriott (Arkhamhaus Images) or the party designated as the owner of the rights. This site is © 1998-2017 Anthony Marriott. All Rights Reserved. There is no system of registration for copyright protection in Australia. Copyright protection does not depend upon publication, a copyright notice, or any other procedure. Copyright protection is free and automatic. While the copyright notice is not required for protection in Australia and in most other countries, it does notify people that the work is protected and identifies the person claiming the rights. In Australia, copyright law is contained in the Copyright Act 1968 (Cth) and decisions of courts. As a result of international treaties such as the Berne Convention, most foreign copyright owners are protected in Australia, and Australian copyright owners are protected in most other countries.