From the Corn Fields of Horror stumbles...
Pun'Kin-Head : Rural Legend, Rogue Scarecrow, Bane of the Pumpkin Patch. Striking fear into the hearts of Rednecks and other inbred horrors alike, generally in the late summer or early autumn.
Not of flesh and blood-born, but strawn into existence. A man-shaped thing of vegetation, huge and heavy, the inside of its hollow pumpkin head carved with unholy words writ by a vegen kindergarten teacher, herself banished to the badlands of early-childhood education.
Repulsed by the incomprehensibility of her pupils ingestion habits.
"Just eat some vegetables you diminutive slack-jawed dim-wits" she was heard to screech ( and would mumble far, far worse things in the darker recesses of the teachers lounge, Rumour had it she was on three packs a day, unfiltered )

She summoned a demented dietary demon to animate an intricate manlike artifact woven from the dry stalks and ears of wheat, bound with hemp, cresting this abomination with a large pulpy round orange piece of fruit....

Pun-kin' Head, Vegen nightmare :
Cartoons
\Scarecrows \ Dark Vegetable Art \ XenoLachano \ Terror in the Pumpkin patch | 13/01/18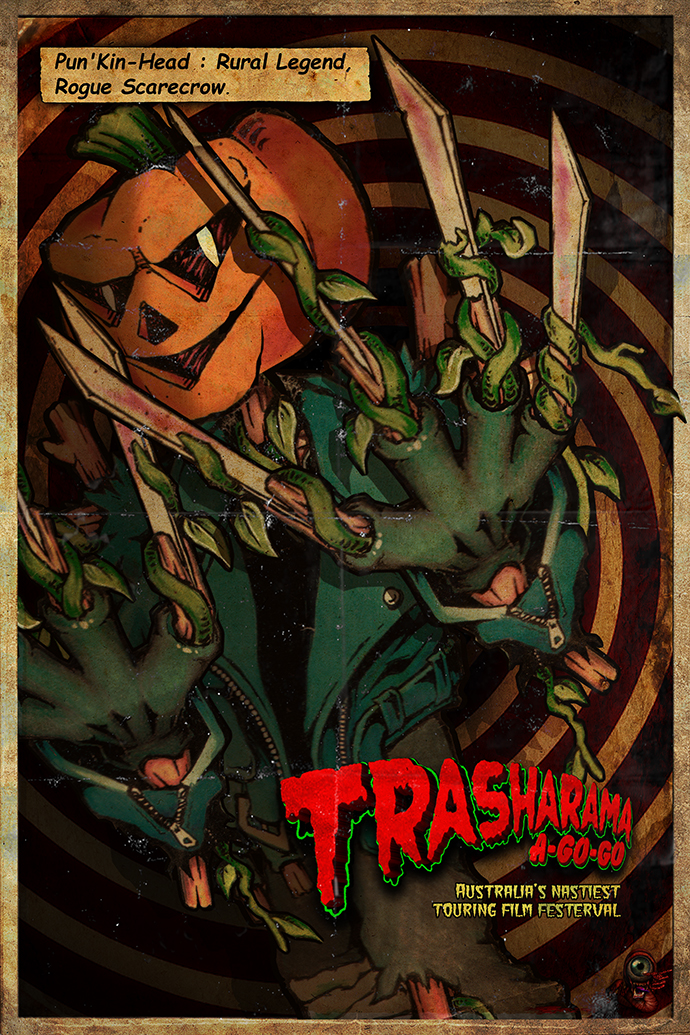 Artists Description and general comments.
Client :
Originally a personal piece of cartoonery, then used as Mock up artwork for an underage Metäl Fest (oh yeah). The Metäl Fest never eventuated and Final artwork stayed with me.
Brief :
Client had seen an earlier incarnation of this character and did the 'I want that one'.
Medium :
Pen & Pencil Sketch
(
on Cartridge
) 56cm by 40cm : Enhanced in
Adobe Photoshop
2005 A.D. and again in 2018
Design notes :
This character came to me while preparing a roast chicken (being the kinda guy I am) I was hollowing out the pumpkins (tiny american ones) and felt the need to carve evil faces into them. Halloween isn't that big a deal in Australia so there's not much vegetable sculpting going on.

Soundtrack (
music to draw to
) :
John Carpenter
- Halloween (Film Score)
Recent updates may not appear in search query.