the Patrolman :
9 minute short film
Sic gorgiamus allos subjectatos nunc.
Trasharama A-go-go is a Film Festerval featuring short Horror & Sci-fi films, Bad Taste Comedies, Dodgymentaries, Cheesy Animations, B-grade Schlock and other Filmic Disasterpieces. "The Patrolman" was submitted by Marc Jager & Anthony Marriott for the 2006 festival.
Brief Film Synopsis : A security patrol officer has been killed in the line of duty, his body has somehow been 'misplaced' at the local morgue. What follows is a mockery of typical 'security patrol duties' building up to some mindless zombie violence,

House of Zombie...

Screened at 2006 Trasharama Agogo Short Film Festival
Directors : Marc Jager & Anthony Marriott QLD
the Patrolman :
One-sheet 70 x 100cm (27 inch x 41 inch) movie poster
Artists Description and general comments.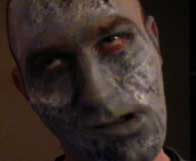 Client : Trasharama A-go-go Film Festerval.
Brief : Submit a short film (under 15 mins) in keeping with the cheesy schlock genre.
Medium : Video Production : Filmed with Mini DV camera. Edited in Adobe Premier 2006 a.d. additional titles/effects created in Adobe Photoshop 2006 a.d.
Design notes : Filmed on a shoe-string budget in and around Brisbane and the GoldCoast, Queensland Australia. Hero Zombie makeup created using latex, tissues, breadcrumbs and acrylic paint. Victim makeup created using latex, a ping-pong ball, golden syrup and red food colouring. Severed hand created using latex, make up and syrup blood mix.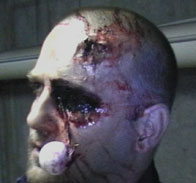 Wife hero zombie created from a skull mold, painted ping-pong balls, latex applications, molding plastercine, acrylic paint , a wig and a coat hanger.

Film Making Experience :
©lownrunner ( still in Pre-Production )--2008
The Patrolman (Completed)--2006
Information wants to be free!(Completed)--1994
Beyond Vice ( Townsville Vice II- Jimmy's Back ) (Completed)-- 1991
Townsville Vice (Completed)--1987
Film Experience :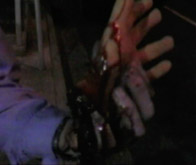 Bad Behaviour (limited released for festival circuit ATM) Art Director--2010
Sanctum (Feb 2011 Release date) -- 2nd Assistant Accountant --2009
The Professional Idiot (Post Prod.) Concept Art/Props/Continuity --2009
5 Blue Dogs (??????) Concept Art --2008
Singh is Kinng (Released 08 August 2008) Archiving -- 2007
5L339W4LK3R (?????) Storyboards --2007
Awaken (Released 2009) Concept Artist/Texture Painter--2007
BorderPatrol (Released 2003) Concept Art/Prop Construction -- 2001
Living Color (TV Release) Concept Art/Poster Design --1992

Patrolman Soundtrack : Fantomas-Rosemary's Baby- (2006 Security-G Re-mix) C. Komeda-1968.
Recent updates may not appear in search query.